ATA Brand Ambassador
Channah Zeitung
Throughout her training, Channah has had several role models influence her passion. A couple being Chief Master Ken Church and Master Patricia Church, as well as Mr. Jose Aguilar who first introduced her to the bo staff. It's safe to say that Channah and taekwondo were a perfect match as she currently holds 13 World Championship titles and 2 Demo Team titles.
Her martial arts career has led her many directions in the entertainment industry as well. She was on the "Katie Couric Show" in 2013 and since has made appearances on Nickelodeon's "Game Shakers," "Wonderama," "Little Big Shots" (both US and Australia), and the Olympic Channel series "Her Game." Channah was also named one of the Top 25 "People are Awesome" for 2017 on YouTube, and in 2019 she was featured in the New York Times! She currently has a recurring role on Nickelodeon's "Danger Force" as Cavekid and is set to star in a major motion picture in 2023.
Channah is a 3rd Degree Black Belt, bo staff extraordinaire, and always sticks to her motto, "Even though you're small, it doesn't mean you can't achieve BIG THINGS!"
A little more about Channah:
Favorite Color: Blue
Favorite Movie: Bay Watch
Best Book Ever Read: Tuck everlasting
If She Could Have Any Superpower: Control Water
Hobbies Outside of Martial Arts: Surfing, Acting
Hidden Talent: Bake with my sister
Favorite ATA Event: Fall Nationals
Dream Job: Actor
Would She Rather Vacation Somewhere Cold or Warm: Warm
Favorite Holiday: Halloween
Biggest Inspiration: Mom and Dad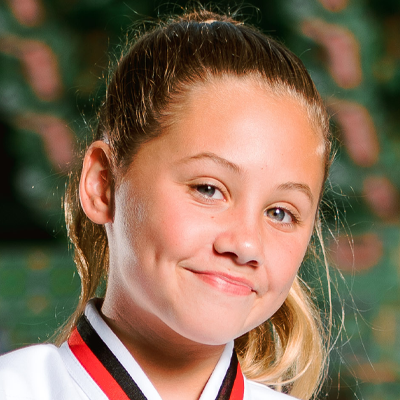 GET READY FOR WORLDS!
ONE EVENT, TWO GREAT TOURNAMENTS!
Worlds will take place in Phoenix, AZ
at the Phoenix Convention Center.
July 11-16, 2023