We are dedicated to teaching martial arts
to your entire family!
With Licensed ATA Locations around the globe, there are over 950 independently owned and operated licensed facilities.
Licensees of the ATA have trained over one million students since ATA's inception in 1969.

Since that first class was taught many years ago, the focus of ATA International has remained the same:
to provide students with the highest quality martial arts curriculum available in a fun and positive
learning environment that people of all ages can enjoy. Each Instructor is the graduate of an intensive certification
process that represents more than forty years of ongoing curriculum research and development.

Your Certified Instructor should be with you every step of the way to help you reach your current individual goals,
as well as some new goals you never before thought possible!
WHAT WE'RE UP TO
Grand Master M.K. Lee is pleased to invite the community, licensed school owners and members to the organization's newly-built World Headquarters in Little Rock Arkansas. The centerpiece of the World Headquarters is the Songahm Star and includes several water features, in which water will flow from one another and symbolize the passing of knowledge from instructor to student. The new facility will allow the organization to better serve our licensed school owners with the new international training center. Another important aspect of the new World Headquarters will be the museum, which will provide a first-class experience to tell the story of Eternal Grand Master H.U. Lee and the history of the ATA.
Be our guest – stop by for a tour!
HISTORY
---
In 1968, Korean General Hong Hi Choi (the man responsible for originally standardizing Taekwondo in 1955) met with then Master Haeng Ung Lee (now Eternal Grand Master), who at the time was teaching Taekwondo-Japanese mixed martial arts to his organization of followers. General Choi quickly taught Eternal Grand Master Lee the first 16 Cheon-jee forms of Taekwondo in only 4 days and three nights (this system of forms was the first set of forms developed under the new Taekwondo of Korea).
From this first meeting almost half a century ago, the stage was set for the founding of The American Taekwondo Association (ATA) in 1969 in Omaha, Nebraska by Eternal Grand Master Lee.
Read the full ATA International History
Read Eternal Grand Master H.U. Lee's story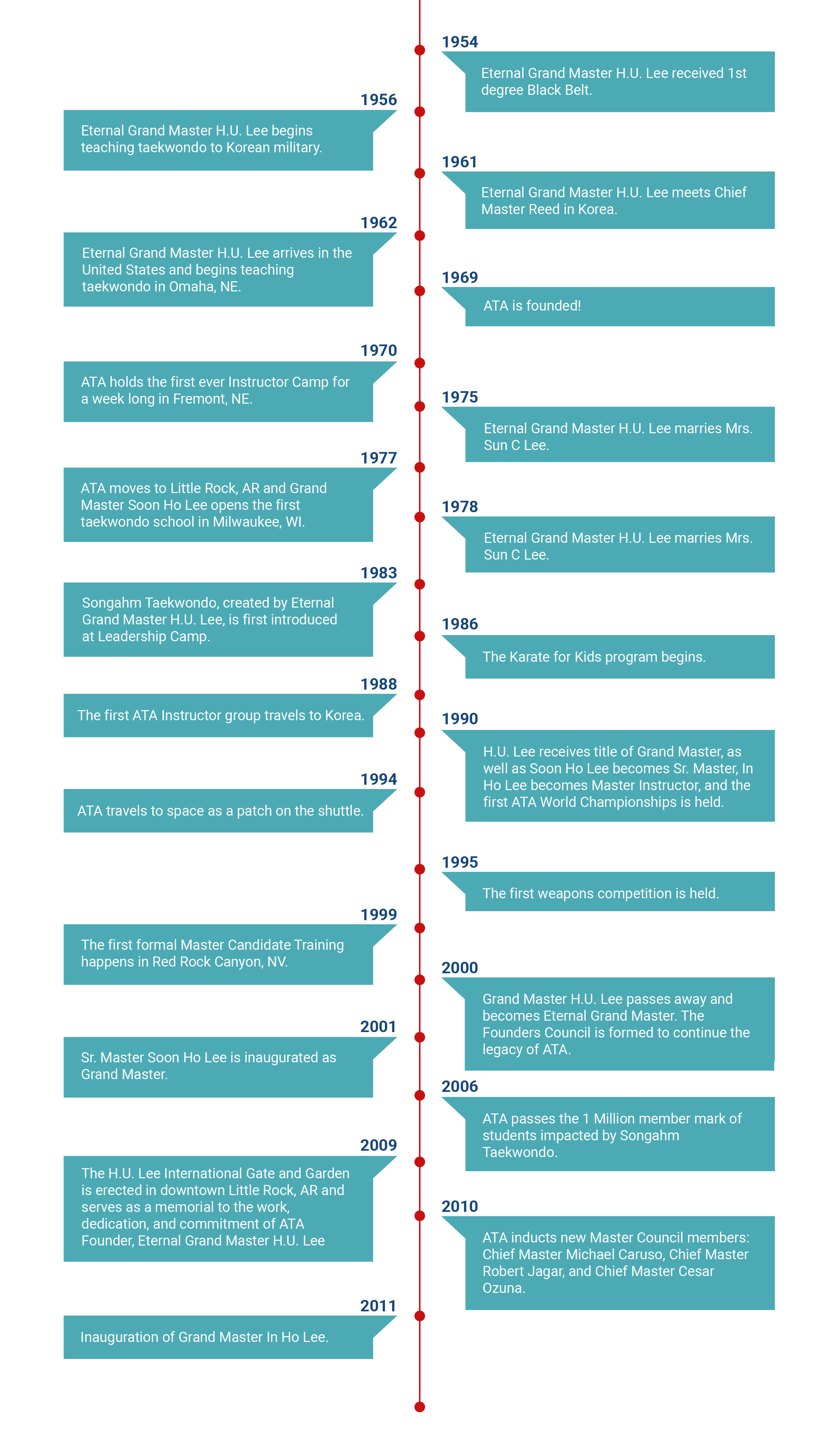 REGISTER FOR WORLDS 2022 TODAY!
Worlds will take place in Phoenix, AZ
July 11-17, 2022 at the Phoenix Convention Center.