ATA Recognizes the Honorable, Dr. Michael J. Ackerman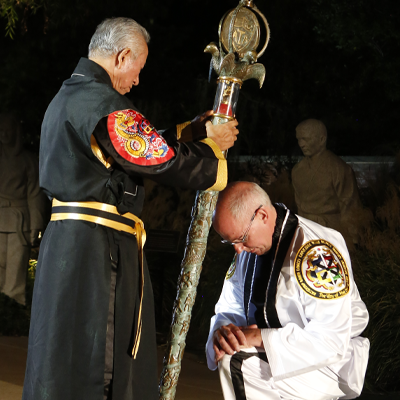 It's been well over a month since ATA International and Songahm Taekwondo hosted the Traditional Masters' Ceremony at the H.U. Lee International Gate and Garden in Little Rock, AR. This was a particularly special event where we were able to acknowledge and celebrate the inductees of not one but two Masters' Ceremonies. After much anticipation, the 2020 Masters' Class were finally able to go through the ceremony in person with all of their family and friends from near and far. We then began celebrations for the 2021 Masters' Class where 35 individuals received their Master Instructor title. We'd like to specially recognize one individual in this Masters' Class who is near and dear to the ATA Family.
Dr. Michael J. Ackerman is the Windland Smith Rice Cardiovascular Genomics Research Professor and Professor of Medicine, Pediatrics, and Pharmacology at the Mayo Clinic in Rochester, Minnesota. In 1995, Dr. Ackerman received his MD and PhD from the Mayo Clinic Alix School of Medicine and the Mayo Clinic Graduate School of Biomedical Sciences. He then completed his residency and fellowship training in Pediatric and Pediatric Cardiology in the Mayo Clinic School of Graduate Medical Education from 1995 to 2000. He joined the staff of Mayo Clinic in 2000 as both genetic cardiologist where he started Mayo Clinic's Genetic Heart Rhythm Clinic and as a physician-scientist investigating the genetic basis of sudden cardiac death in the young. Currently, he serves as director of Mayo Clinic's Windland Smith Rice Genetic Heart Rhythm Clinic and the Windland Smith Rice Sudden Death Genomics Laboratory. Dr. Ackerman has also served as the president of the Sudden Arrhythmia Death Syndromes (SADS) Foundation since 2006.
He has published over 700 peer-reviewed articles. In 2010, he was elected to the American Society for Clinical Investigation. In 2013, he received the Dean's Recognition Award from the Mayo Medical School for his teaching activities. In 2015, he received Mayo Clinic's highest award, the Distinguished Clinician Award, for physicians taking care of patients. In 2018, he received the Mayo Clinic Distinguished Pediatric Investigator Award and the Distinguished Scientist Award from the Heart Rhythm Society. In 2021, he was inducted into the prestigious Association of American Physicians (also known as the 'Sir William Olser Society'). Most recently in September of 2021, he received Mayo Clinic's highest recognition for research with the Mayo Clinic Distinguished Investigator A ward.
Training under now Grand Master Robert Jager, Michael started in the ATA in high school in 1980. During certified instructor camp in summer 1984, he and 3 other black belts were chosen by Eternal Grand Master H.U. Lee to learn and introduce the first black belt form of the new Songahm Taekwondo. That fall, he left for Luther College in Decorah, Iowa to major in Chemistry and Mathematics. Grand Master Jager did not allow him to start an ATA club during his freshman year as he insisted that Michael focus on his studies. However, during his second year of college, Grand Master Jager gave him permission and Ackerman's Taekwondo Family Fitness at Luther College was born in 1985. Michael taught his way through college where he graduated Summa Cum Laude in 1988. Luther College Taekwondo continues today.
He then started his second ATA club in Rochester, Minnesota, in the basement of Mayo Clinic's Saint Mary's Hospital in the fall of 1988 when he started medical school there. From 1988 to 2015 (during medical school, graduate school, residency, fellowship, and his first 15 years on staff), Dr. Ackerman and his team of instructors taught over 3000 students with 509 students earning their black belt including dozens of Mayo Clinic's physicians and surgeons and Michael's three sons. During his medical training, Michael continued to advance in rank as well attaining his 5th degree black belt in summer 2000. Known for his ability to teach and inspire his students, Dr. Ackerman was recognized by the ATA as Regional Instructor of the Year on three occasions and his club was named the National Club of the Year in 1990, 1992, and 2000. After teaching taekwondo for 30 years, he passed on his ATA club, after his students' final testing on March 9, 2015, to Ms. Patricia Young where 4Kicks Family Taekwondo continues to thrive under her direction today in both Rochester, Minnesota and Decorah, Iowa.
Written by ATA Staff 
December 13, 2021 
PREPARE FOR FALL NATIONALS!
WE'RE BACK IN THE BURGH!
Fall Nationals will take place in Pittsburgh, PA
at the David L. Lawrence Convention Center.
October 18-21, 2023