Armor for Confidence & Power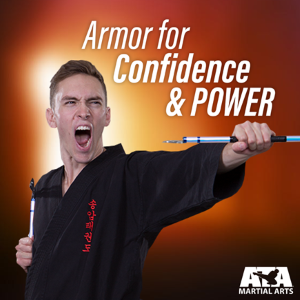 ATA International has been creating leaders and instilling the power of traditional Songahm curriculum and philosophy for over 45 years.  ATA's ability to shape and mold people's lives in a positive way has significantly contributed to the success of ATA members throughout the organization.  That same power can help shape the lives of students of all ages by imparting vital life skills through the new ATA Leadership Program.
Over the course of time, the ATA Leadership Program has evolved into a core program for many licensees looking to offer even more to their students who wish to maximize their martial arts training both physically and mentally.  Today's curriculum focuses on specialty weapons and ATA-Xtreme for beginners and advanced practitioners while also incorporating the life skills of 
Discipline, Respect, Belief, Self-Esteem and Communication.
As Grand Master In Ho Lee explains, "The ATA Leadership Program offers students the personal development through these advanced training opportunities and the valuable life skills lessons that we hope students will apply inside and outside of their ATA classroom."
Learning Life Skills
By joining the ATA Leadership Program, you will be provided with the ultimate challenge to become a superior marital artist and leader in your community.  It's a lot of fun, but it also requires dedication, self-discipline and personal commitment.  If your instructor has already recommended you as an ATA Leader, then you've already been demonstrating these characteristics. 
In order to further your personalized development, the ATA Leadership Program has established six life skills to help each student through their everyday living.   Master Mark Burns, 6th Degree Black Belt of Karate Atlanta- Johns Creek, is excited about the new life skills and believe they are what build an ATA Leader in this core program. "These six life skills are crucial to mold a person's character to one of a leader for themselves and others around them.  Each life skill links to the next combining a solid foundation made to provide a student the structure of success in all areas of life."
The six life skills are as follows:
Belief is the conviction that no challenge is too hard and that all things are possible. Yes I Can!

Communication is how we relate to ourselves and everything around us. Effective communication is crucial to a human being's growth and is a necessary quality for every leader.  The Link Between the World and Me

Respect is the way we treat ourselves, others and one another's beliefs and belongings. It is the way we follow the rules and regulations of society and the way we interact with the world around us. It's Not What You Know; It's What You Do

Honesty starts with integrity, which is being honest with ourselves. To be honest is to obey our conscience; it is to take responsibility for our actions.  As leaders we learn to apply honesty to all aspects of our lives.  The First Step to an Abundant Life

Self-esteem is taking pride in who you are and using your own individual gifts to lead others. The ATA Leadership Program teaches students to find their own strengths, then teaches them how to use those strengths to impact the world. The Joy of Being Myself

Discipline is understanding structure and following the rules. Leaders obey the rules and are able to enforce the rules.  Successful leaders are able to inspire others to do the same. To Obey What is Right
As Burns says, "By transforming a student's behavior through these life skills, we are able to control the way they create positive habits which they project in their communities and even the world."
Going to Xtremes
The traditional Songahm curriculum has consistently proven to be an effective methodology of teaching and developing life skills for students of all ages.  But being an ATA Leader will also give you full access to specialty programs offered by your ATA school or club such as kick boxing or ATA Xtreme.
As a supplement to traditional Taekwondo, the new ATA Xtreme curriculum is more engaging and is designed to enhance physical technique and ability as well as character development. 
Burns, a former ATA Xtreme World Champion, says "Xtreme shows students that emotion drives motion!"  He continues by explaining that "ATA Xtreme is about an inside out approach on a fusion of martial arts and creative interpretation of martial arts while demonstrating positive drama."
When students watch their peers perform at higher levels through the dynamics of Xtreme martial arts, they will aspire to reach higher goals.  Having the "Yes I can!" belief, the Xtreme curriculum will challenge students to push themselves to the next level of technique and performance.  This will carry over in to each student's traditional training too and make them a stronger all-around martial artist.
The creative aspects of ATA Xtreme take the discipline from traditional Songahm and allow a student to showcase their personal style.  Some students love the freedom of high flying kicks and tricks while others enjoy demonstrating power through exciting hand combinations.  Being able to create the form YOU want to perform helps build self-esteem and increases confidence; two elements necessary to become a strong leader.
Leadership students are encouraged to communicate through eye contact, confident delivery of words or expressions, impactful kihaps and courageous facial expressions.  The performance aspects of the ATA Xtreme curriculum builds up on those demonstration elements of the traditional Songahm components but allows for creative expression and individual interpretation of traditional techniques.  Through the traditional and Xtreme martial arts, children learn to communicate more effectively even at an early age.  These skills are all carried on to all aspects of life for ATA Leaders.
A Family Affair
Being part of the ATA Leadership Program is a special honor.  For many schools, there is a process they want students to complete in their goal setting for both mind and body.  With the new ATA Leadership Program, instructors are encouraged more than ever to make the decision for Leadership a family one.
When a student has been chosen to try the Leadership Program, it is important for the family to be part of the experience by watching class, meeting with instructors and even offering letters of testimony as to why you want this program in yours or your student's life.  Being a leader is something that goes far beyond the ATA classroom walls so it's important to have your entire family join in your journey- whether you are an ATA Tiger, junior, teen or adult.
Burns says, "The ATA Leadership Program is and will be the best investment for your child or for yourself.  There are no other activities in the community that give students a chance to show their level of commitment to leadership character."
One of the best ways to make ATA Leadership a family affair is by joining as an entire family.   The curriculum is universal but classes are still specific to various age groups.  Also, many schools offer discounts for family enrollment so you may be able to take advantage of a special deal. 
"Remember that ATA Leadership is great for adult students who are continually searching for personal success and self-development while giving them the tools necessary to rebuild or regain their commitment to discipline, respect and belief," Burns says.
Grand Master explains, this is just the beginning of a new level of greatness in martial arts.  "Great leaders share their vision, passion and knowledge with others.  On behalf of the Founders and Masters of ATA International, I hope you have the opportunity to take action and join in this outstanding training.  Now is the time to look to your future as a black belt, Master or maybe even one day, a Grand Master like me."  
Written by Jenny O'Connor
April 02, 2018 
PREPARE FOR FALL NATIONALS!
WE'RE BACK IN THE BURGH!
Fall Nationals will take place in Pittsburgh, PA
at the David L. Lawrence Convention Center.
October 18-21, 2023