ATA Brand Ambassador
Master Alicia Tavani
No one knows martial arts like Master Alicia Tavani. After 30 years of training, you can say she has become one with the art of taekwondo.
Her journey began when she was 5 years old. Her mother enrolled her in martial arts classes to build her self-esteem and focus. Within months, Master Tavani was hooked and began competing. Competition was a way for her to gain self-confidence, focus, and build key leadership qualities she would carry into the future. As she grew older, she found her real passion was to teach others and help them to become the best version of themselves!
Master Tavani currently holds 6 Worlds Championship titles and has been featured on two seasons of NBC'S hit show "American Ninja Warrior"—2018 (Miami), 2019 (Baltimore). She is also the winner of the 2016 ESPN 360 Women's competition. In 2019 she became the first African American female master of the ATA, which is one of her greatest achievements.
 Although she loves all of the traditional aspects, her favorite part of martial arts is forms and weapons—her specialty weapon being the Sam Dan Bong, the 3-sectional staff.
Master Tavani favorite Like Skill is Self-Esteem because like many others, she was bullied as a child and understands the importance of loving yourself for who you are and believing fully in your own capabilities. What's her theory? "In order to help others, reach their potential, you must first embrace the joy of being yourself!" she says.
As a Master instructor, certified elementary education teacher, and 6th Degree Black Belt, Master Tavani advocates martial arts for children and adults to enhance their mental, physical, and emotional strengths. She explains, "Beginning the journey is martial arts creates good habits that will continue and help you to flourish in every aspect of life!"
A little more about Master Tavani:
Biggest Achievement: Owning her own school/ESPN 360 Champ/American Ninja Warrior
Favorite Food: Spaghetti
Favorite Show: Party of 5
Best Book Ever Read: Barrack Obama "Dreams of My Father"
Coolest Place Ever Been: Capri, Italy
If She Could Have Any Superpower: Giving each person the willingness to act and reach their highest potential.
Hobbies Outside of Martial Arts: Tennis, Golf, Snowboarding, Modeling
Hidden Talent: Rapping
Favorite Actor: Matthew Broderick
Favorite ATA Event: Fall Nationals
Biggest Inspiration: Mom and Students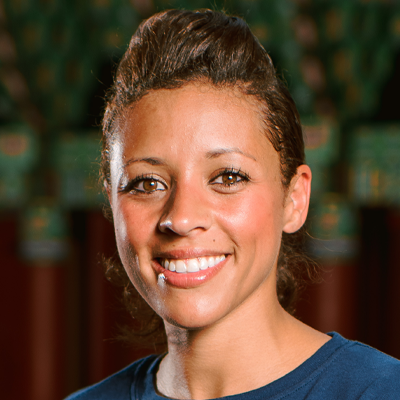 GET READY FOR WORLDS!
ONE EVENT, TWO GREAT TOURNAMENTS!
Worlds will take place in Phoenix, AZ
at the Phoenix Convention Center.
July 11-16, 2023