9 Facts About Presiding Grand Master Nominee M.K. Lee
What to Know About the Legend in Training?
For those of you who have had the privilege of meeting ATA's Presiding Grand Master Nominee, you know that M.K. Lee is a tremendous martial artist, very humble, and dedicated! To watch him test for 9th Degree was a true moment in Songahm history and one that inspired an awestruck generation of future practitioners. 
But the story of how Grand Master M.K. Lee got to this place in his martial arts journey is just as admirable and interesting as the Presiding Nominee himself.  On the 9th of each month leading up to his inauguration, we will share information, videos, training tips and inside scoop on what it's like to prepare to become the presiding leader of one of the largest martial arts organizations in the world. 
Here are NINE interesting facts about Presiding Grand Master Nominee M.K. Lee!
FACT 1:
Grand Master M.K. Lee was born in 1958 in Seoul, South Korea.                 
FACT 2
A martial arts enthusiast from a young age, M.K. Lee started martial arts training in 1968 and received his first black belt in 1971 when he was 13 years old.
FACT 3:
In 1977, Grand Master M.K. Lee moved to the United States where he began working in Panama City, Florida under Grand Master Emeritus Soon Ho Lee.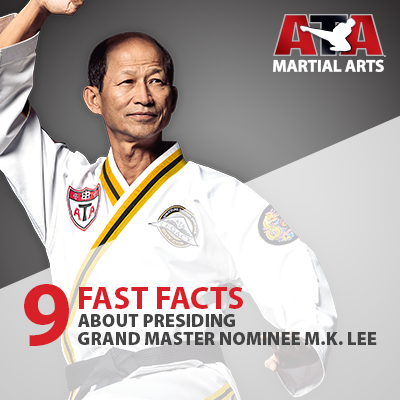 FACT 4:
In 1984, he moved to Little Rock, Arkansas then became the Director of Training for ATA International under the direction of Eternal Grand Master H. U. Lee.
FACT 5:
When asked what his favorite weapon is, it is the Jahng Bong. But he said he also enjoys training with the Jee Pahng Ee. 
FACT 6:
When he's not doing Taekwondo, Grand Master M.K. Lee enjoys golf, reading, watching action & adventure movies, and playing the game of "Go".
FACT 7:
His go-to favorite board break is a 360o Jump Reverse Side Kick.
FACT 8:
Grand Master M.K. Lee is a family man with four children, ages 40, 30, 29, and 26.
FACT 9:
So, what advice does the Presiding Grand Master Nominee have for ATA Martial Arts students? "Know what to focus on, have a clear goal, and then plan."  These are the three steps to success.
Look for more on Grand Master M.K. Lee each month and follow his journey in our Newsroom and on our social media pages. Don't forget to mark your calendars for the 2022 ATA Worlds where M.K. Lee will become ATA's 5th Presiding Grand Master.
Written by ATA Staff. 
December 9, 2021
PREPARE FOR FALL NATIONALS!
WE'RE BACK IN THE BURGH!
Fall Nationals will take place in Pittsburgh, PA
at the David L. Lawrence Convention Center.
October 18-21, 2023