ATA Brand Ambassador
Brandon Johnson
Brandon Johnson never thought he'd be changing lives through his instructing, but after 18 years of hard work, dedication, and training, he's doing just that through martial arts.
Brandon began taking martial arts classes when he was 7 years old and now is an instructor at ATA Legends in Jackson, MO. When asked which Life Skill he values most, he's quick to say Discipline. "For me, it is definitely Discipline! Everything can be achieved through proper discipline. I am far from perfect and sometimes struggle with some elements of Discipline. But I keep working hard and stay focused, which is why I find it to be the most compelling life skill."
Though you often see this 5th Degree Black Belt wielding a sword, his favorite weapon is the Xtreme Jahng Bong. 
When it comes to his passion for martial arts, Brandon insists that everyone give it a try. He explains, "I say it all the time. ATA Martial Arts is for everyone. There is something for everyone. It could be weapons, flips, sparring. I love the variety of what ATA has to offer." And when it comes to sticking to any philosophy, it's always Eternal Grand Master H.U. Lee's that he follows: Today not possible, tomorrow possible. "Eternal Grand Master's motto, though short and simple, has become a deep part of me as an internal chant. Today something I'm doing may seem way too hard, but over time with hard work anything is possible. And I will make it possible."
A little more about Brandon:
Biggest Achievement: Keeping a successful business through COVID-19 Pandemic
Favorite Food: Steak
Favorite Show: Breaking Bad
If He Could Have Any Superpower: Fly
Hobbies Outside of Martial Arts: Lifting weights
What Does He Do To Relax: Run
Hidden Talent: Guitar
Favorite ATA Event: Worlds
Favorite Singer: Hozier
City He'd Love To Live In: Atlanta
Biggest Inspiration: Bruce Lee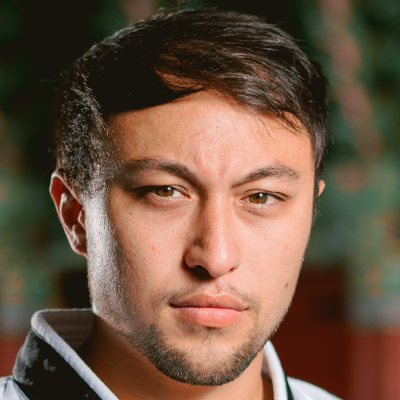 GET READY FOR WORLDS!
ONE EVENT, TWO GREAT TOURNAMENTS!
Worlds will take place in Phoenix, AZ
at the Phoenix Convention Center.
July 11-16, 2023